Mission, Vision, Values and History
OUR MISSION:
Hood Theological Seminary prepares women and men for bold and creative leadership for the Christian church for a diverse world.
OUR VISION:
Our vision is to be the seminary of choice for persons who desire to reflect the Kingdom of God in the cutting-edge study of scripture and theology, in relationships of equality and diversity, and in actions which embrace racial reconciliation and economic justice.
OUR VALUES:
As the Body of Christ and as a Seminary of the A.M.E. Zion Church - "The Freedom Church" - we embody values that define us as
A Community of welcome: for persons of all backgrounds;
A Community of worship: where, together in the classroom, chapel, and refectory, we collaboratively listen to God's word in order to discern God's ways in a complex and resistant world;
A Community of teaching and learning excellence: where we seek to ''love God with all the mind" and to grow in theological knowledge and the implications of such knowing for being God's people in the world;
A Community of discernment and practical wisdom: where we engage in practices that promote peace, justice, and mercy in all human relationships and institutions.

HISTORY
Hood Theological Seminary is a graduate and professional school sponsored by the African Methodist Episcopal Zion Church (A.M.E. Zion), approved by the University Senate of The United Methodist Church, and dedicated to the education and preparation of men and women for leadership in the various ministries and vocations of the Christian church.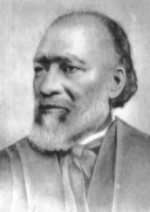 The Seminary bears the name of a renowned bishop of the denomination, James Walker Hood, who inspired others in the denomination to join with him in creating an institution for the training of Negro youths for the Christian ministry. In 1879 those pioneers created the Zion Wesley Institute in Concord, NC. Three years later, by invitation of the citizens of Salisbury, they relocated the Institute to this city. Under the leadership of its first president, Dr. Joseph Charles Price, the Institute was chartered by the State of North Carolina in 1887 and renamed Livingstone College in honor of Scottish physician and explorer of central and southern Africa, Dr. David Livingstone.

Hood obtained independence from Livingstone College in 2001 and became a free-standing seminary with its own Board of Trustees. Dean Albert J. D. Aymer was appointed and inaugurated as its first President.
In 2002, the A.M.E. Zion Church purchased property to house the new seminary campus designed to accommodate the growth of the Seminary, and in the fall of 2005, Hood Theological Seminary officially relocated to the present site. With the new campus and strong support from church, alumni and community, Hood Theological Seminary is poised for a bright second century preparing women and men for bold and creative leadership for the Christian church for a diverse world.
For a comprehensive biography of James Walker Hood, refer to the NCpedia article by John L. Bell, Jr.
For the history related to Hood Theological Seminary, read this article by Reginald W. Brown, M.A. - Why is There A Seminary Called Hood: Hood Theological Seminary, Salisbury, North Carolina HERE