Lecture Series
THE RUBEN L. SPEAKS ENDOWED MEMORIAL LECTURE SERIES
Friday, October 4, 2019 at 7 p.m. and
Saturday, October 5, 2019 at 10:10 a.m.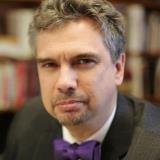 Presented by Dr. Miguel De La Torre, Professor of Social Ethics and Latinx Studies at Iliff School of Theology. Click here for more information on this lecture and Dr. De La Torre.

For more information and to register for the event, click here.
---
THE BISHOP ALFRED E. AND MRS. MAMIE WHITE
ENDOWED HERITAGE LECTURE SERIES
Friday, February 7, 2020 at 7 pm
Saturday, February 8, 2020 at 10:10 am
More information coming soon!