The Center for Chaplaincy

International Center of Faith, Science and History (ICFSH)

Institute for Early Career Clergy Development (IECCD)

Other Initiatives

Messinger-Williams Community Education Initiative

The Congregational Faith and Learning Center (TCFLC)
Current Course Offering
Fall 2021 Messinger-Williams Family Community Education Initiative Book Study
The Unbroken Thread: Discovering the Wisdom of Tradition in an Age of Chaos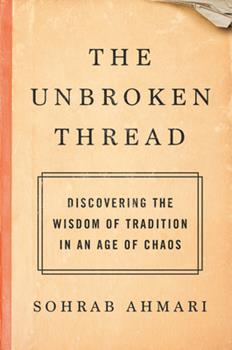 As a young father and a self-proclaimed 'radically assimilated immigrant,' Sohrab Ahmari realized that when it comes to shaping his young son's moral fiber, today's America comes up short.

For millennia, the world's great ethical and religious traditions taught that true happiness lies in pursuing virtue and accepting limits. But now, unbound from these stubborn traditions, we are free to choose whichever way of life we think most optimal — or, more often than not, merely the easiest. All that remains are the fickle desires that a wealthy, technologically advanced society is equipped to fulfill.

The result is a society riven by deep conflict and individual lives that, for all their apparent freedom, are marked by alienation and stark unhappiness. In response to this crisis, Ahmari's The Unbroken Thread offers essential questions for us to grapple with — fundamental queries that challenge our modern certainties.

Over the course of six weeks, the fall 2021 Messinger-Williams Family Community Education Initiative will explore six of Ahmari's questions. All six weeks will be conducted exclusively online.

Week One (October 1-7):

How do you justify your life?

Week Two (October 8-14):

Can you be spiritual without being religious?

Week Three (October 15-21):

Should you think for yourself?

Week Four (October 22-28):

What is freedom for?

Week Five (October 29-November 4):

Is sex a private matter?

Week Six (Nov. 5-11):

What's good about death?
Here's what reviewers have said about The Unbroken Thread :
"A scholarly rebuke to the fashionable currents of our rootless age. . . . Salted with an intellectual breadth and curiosity, expressed with exceptional clarity."— The Times (London)
"A vital and provocative read."— The Telegraph (London)
"He frames the questions we all need to ponder and identifies many topics that families and religious leaders need to address—the sooner, the better."— The New Criterion
"Ahmari introduces a generation (and more) to the spiritual patrimony of which they have been robbed."— Spectator World
Trevor Eppehimer , HTS's Academic Dean and Messinger-Williams Family Associate Professor of Theology and Ethics, will seve as this engagement's facilitator and discussion leader. All registered participants will receive weekly emails summarizing and highlighting the key points in each week's reading. They will also have the option of participating in online discussion boards and Zoom meetings to discuss The Unbroken Thread with other participants.
Questions? Want more details? Send email to teppehimer@hoodseminary.edu
Suggested donation for course: $25. Click here to make donation.