The Center for Chaplaincy

International Center of Faith, Science and History (ICFSH)

Center for Bold Leadership

Other Initiatives

Messinger-Williams Community Education Initiative

The Congregational Faith and Learning Center (TCFLC)
Current Course Offering
Fall 2023 Messinger-Williams Family Community Education Initiative Book Study
Life Worth Living
A Guide to What Matters Most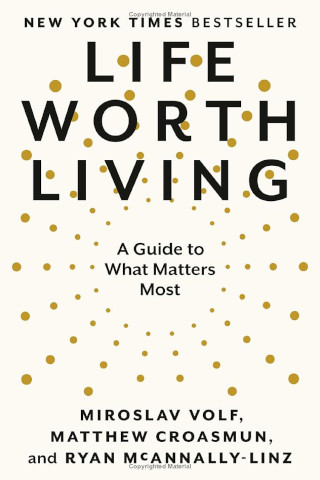 Reading: Life Worth Living - A Guide to What Matters Most, (March 28, 2023) by Miroslav Volf, Matthew Croasmun, and Ryan McAnnally-Linz.
What makes a good life? The question is inherent to the human condition, asked by people across generations, professions, and social classes, and addressed by all schools of philosophy and religions. This search for meaning, the authors of Life Worth Living argue, is at the crux of a crisis that is facing Western culture, a crisis that, they propose, can be ameliorated by searching, in one's own life, for the underlying truth.
The Fall 2023 Messinger-Williams Community Education Initiative is devoted to a discussion oriented, group study of A Life Worth Living, named after its authors' highly sought-after Yale undergraduate course.
Drawing from the major world religions and from impressively truthful and courageous secular figures, A Life Worth Living is a guide to life's most pressing question, the one asked of all of us: How are we to live?
This instant New York Times best seller is based on Yale's popular undergrad class on the age-old question of the meaning of life. Students have called the class life-changing, and readers who experience this book's wisdom and new perspectives should feel the same way.

Facilitator: Trevor Eppehimer, PhD. Messinger-Williams Family Associate Professor of Theology and Ethics at Hood Theological Seminary (Salisbury NC)
Participation Options
Sign up for a discussion group
Join an in-person or Zoom discussion group, led by Dr. Trevor Eppehimer of Hood Theological Seminary, that meets one hour per week during the course of the study.
Organize your own discussion group
Already have a reading group in mind? Use distributed reading guides to explore Life Worth Living with co-workers, neighbors, friends, and family.
Read independently
Use distributed reading guides to work through Life Worth Living on your own.
Life Worth Living Study Schedule
Week One (10/2-10/6): Diving In
Reading: Life Worth Living, pp. xi-32.
This Book Might Wreck Your Life
What's Worth Wanting?
Where Are We Starting From?
Week Two (10/9-10/13) The Depths
Reading: Life Worth Living, pp. 36-102.
Who Do We Answer To?
How Does a Good Life Feel?
What Should We Hope For?
How Should We Live?
Week Three (10/16-10/20): Bedrock
Reading: Life Worth Living, pp. 105-150.
The Recipe Test
The Really Big Picture
Week Four (10/23-10/27): Facing the Limits
Reading: Life Worth Living, pp. 153-223.
When We (Inevitably) Botch It
When Life Hurts …
… And There's No Fixing It
When It Ends
Week Five (10/30-11/3): Back to the Surface
Reading: Life Worth Living, pp. 227-284.
It Turns Out We Have Some Work to Do
Change is Hard
Making it Stick
What Matters Most
Questions? Want more details? Send email to teppehimer@hoodseminary.edu

Ready to register? Click here

The Messinger-Williams Community Education Initiative at Hood Theological Seminary
Suggested donation for course: $25. Click here to make donation.