The Center for Chaplaincy

International Center of Faith, Science and History (ICFSH)

Center for Bold Leadership

Other Initiatives

Messinger-Williams Community Education Initiative

The Congregational Faith and Learning Center (TCFLC)
Current Course Offering
Fall 2022 Messinger-Williams Family Community Education Initiative Book Study
An Introduction to the Ethics of Abortion
Moving Beyond Simple Answers and Partisan Politics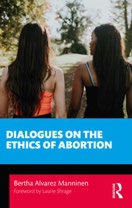 Reading: Dialogues on the Ethics of Abortion (Routledge, 2022) by Bertha Alavarez Mannen, Professor of Philosophy, Arizona State University.

From the publisher: "What happens when two intelligent and highly informed fictional college students, one strongly pro-choice and the other vigorously pro-life, are asked to put together a presentation on abortion? Their conversations over five days — friendly but lively, charitable but clear— are captured in Dialogues on the Ethics of Abortion, an easy-to-use volume and valuable resource for anyone interested in a fair and clear-headed approach to one of the most contentious moral issues of our time."

Facilitator: Trevor Eppehimer, PhD. Messinger-Williams Family Associate Professor of Theology and Ethics at Hood Theological Seminary (Salisbury NC)

Week One (Oct. 3-7)

- Chapter One: Roe v. Wade and other relevant legal cases (pp. 1-25)

Week Two (Oct. 10-14)

- Chapter Two: What is a person? What is a moral community? Who is included in it? (pp. 26-50)

Week Three (Oct. 17-21)

- Chapter Three: Personal identity and abortion; Don Marquis's "Why Abortion is Immoral" (pp. 51-77)

Week Four (Oct. 24-28)

- Chapter Four: Bodily autonomy and abortion; Judith Jarvis Thomson's "A Defense of Abortion" (pp. 78-107)

Week Five (Oct. 31-Nov. 4)

- Chapter Five: Hard cases; Fathers and abortion (pp. 108-138)

Questions? Want more details? Send email to teppehimer@hoodseminary.edu

Ready to register? Click here

This study is free of charge and open to all.
Suggested donation for course: $25. Click here to make donation.