The Center for Chaplaincy

International Center of Faith, Science and History (ICFSH)

Center for Bold Leadership

Other Initiatives

Messinger-Williams Community Education Initiative

The Congregational Faith and Learning Center (TCFLC)
Current Course Offering
The Messinger-Williams Family Community Education Initiative at Hood Theological Seminary Spring 2023 Community Book Study
Grandstanding
The Use and Abuse of Moral Talk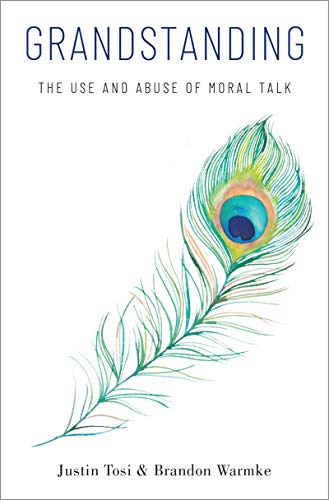 Reading: Grandstanding: The Use and Abuse of Moral Talk by Justin Tosi and Brandon Warmke

From the publisher: We are all guilty of it. We call people terrible names in conversation or online. We vilify those with whom we disagree. We want to be seen as taking the moral high ground not just to make a point, or move a debate forward, but to look a certain way—incensed, or compassionate, or committed to a cause. We exaggerate. In other words, we grandstand.

To philosophers Justin Tosi and Brandon Warmke such one-upmanship is not just annoying, but dangerous. As politics gets more and more polarized, people on both sides of the spectrum move further and further apart when they let grandstanding get in the way of engaging one another.

Drawing from work in psychology, economics, and political science, the authors dive deeply into why and how we grandstand. Using the analytic tools of psychology and moral philosophy, they explain what drives us to behave in this way, and what we stand to lose by taking it too far. Most importantly, they show how, by avoiding grandstanding, we can re-build communities worth participating in.

Facilitator: Trevor Eppehimer, PhD. Messinger-Williams Family Associate Professor of Theology and Ethics at Hood Theological Seminary (Salisbury NC)

Participation Options
Sign up for a discussion group: Join an in-person or Zoom discussion group that meets one hour per week for four weeks.
Lead your own group: Already have a reading group? Use distributed reading guides to lead discussions of Grandstanding.
Read independently: Use distributed reading guides to work through Grandstanding on your own.
Reading Schedule
Week One (March 13-17) - Chapter One: Moral Talk Is Not Magic & Chapter Two: What is Moral Grandstanding?
Week Two (March 20-24) - Chapter Three: Grandstanding: A Field Guide & Chapter Four: The Social Costs of Grandstanding
Week Three (March 27-31) - Chapter Five: Grandstanding and Respect & Chapter Six: Would a Virtuous Person Grandstand?
Week Four (April 3-7) - Chapter Seven: Politics as Morality Pageant & Chapter Eight: What to Do About Grandstanding

Questions? Want more details? Send email to teppehimer@hoodseminary.edu

Ready to register? Click here

This study is free of charge and open to all.
Suggested donation for course: $25. Click here to make donation.