The Center for Chaplaincy

International Center of Faith, Science and History (ICFSH)

Institute for Early Career Clergy Development (IECCD)

Other Initiatives

Messinger-Williams Community Education Initiative

The Congregational Faith and Learning Center (TCFLC)
Current Course Offering
Spring 2022 Messinger-Williams Family Community Education Initiative Book Study
After You Believe: Why Christian Character Matters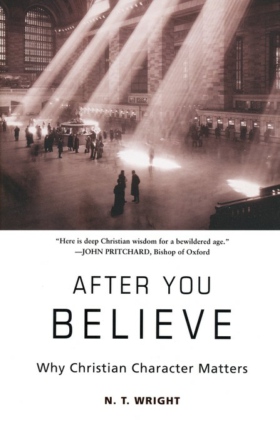 After You Believe addresses the question that has plagued humans for centuries—what is our purpose? As Christians, what are we to do with that time between baptism and the funeral? It's easy to become preoccupied with who gets into heaven; the real challenge is how we are going to live in the here and now.

In After You Believe New Testament scholar N.T. Wright dispels the common misconception that Christian living is nothing more than a checklist of dos and don'ts. Nor is it a prescription to "follow your heart" wherever it may lead. Instead, After You Believe reveals the Bible's call for a revolution—a transformation of character that takes us beyond our earthly pursuit of money, sex, and power into a virtuous state of living that allows us to reflect God and live more worshipful, fulfilling lives.

This is a book for anyone who is hoping there is something more than career success, physical fitness, and the distractions of smartphones and superhero movies while we're here on Earth. There is. We are being called to join a revolution, and Wright insightfully encourages readers to find new purpose and clarity by taking us on an eye-opening journey through key biblical passages that promise to radically alter the work of the church and the direction of our lives.

Trevor Eppehimer, HTS's Academic Dean and Messinger-Williams Family Associate Professor of Theology and Ethics, will serve as this engagement's facilitator and discussion leader. All registered participants will receive weekly emails summarizing and highlighting the key points in each week's reading. They will also have the option of participating in online discussion boards and Zoom meetings to discuss After You Believe with other participants.

Week 1 (March 4-10):

What Am I Here For? (Ch. 1)

Week 2 (March 11-17):

The Transformation of Character (Ch. 2)

Week 3 (March 18-24):

Priests and Rulers (Ch. 3), The Kingdom Coming and the People Prepared (Ch. 4)

Week 4 (March 25-31):

Transformed by the Renewal of the Mind (Ch. 5)

Week 5 (April 1-7):

Three Virtues, Nine Varieties of Fruit, and One Body (Ch. 6)

Week 6 (April 8-14):

Virtue in Action (Ch. 7), The Virtuous Circle (Ch. 8)
Questions? Want more details? Send email to teppehimer@hoodseminary.edu

Ready to register? Click here

Suggested donation for course: $25. Click here to make donation.